Hello Air-Clinicians & Friends,
Happy Sunday fam! In addition to relaxing on a work-free day, Sundays are a day for giving freely. Today, let's use this opportunity to go all out and support some special members of our community who have been of immense help to us.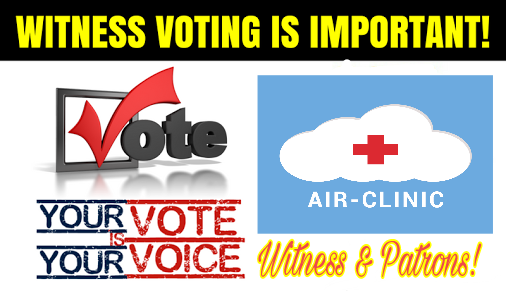 CATEGORIES OF HELPFUL #AIRBIES
Witnesses
Patrons
Senior Advocates
Directors
Receptionists
Radioheads
Health Experts
Health Enthusiasts
In addition to the ADMINS, Every single member of the community plays a special role in helping us grow. For that we are forever grateful and indepted. For example, the health experts will on be talking to rocks if there were no health-enthusiasts. So we all are important to our vision.
Today however, is about OUR WITNESSES & PATRONS. Let's quickly list them and say a little about what they have done for us individually.
WITNESSES
@Sircork:

Brief history with us: He is the first witness to join the #AIR-CLINIC Discord Community back when we were still about 50 members. Fast-forward to now we have over 500 members and he's still supportive. We appreciate his efforts towards our growth by giving us a show-slot on the @SteemStarNetwork.
Awesome stuff about him: He's the founder of 2 major projects helping to develop the steem blockchain. The first is YouAreHOPE FOUNDATION which carters to the basic needs of children and others in 3rd world countries with food, clothing, shoes, seeds etc. Secondly, he's ther creator of the SteemStarNetwork a radio network service which runs on Discord. There he holds weekly Steemitizens Of Steem Show and everyone is given an audience.
Why You should vote him: He's a multitalented, focused and goal-oriented guy who loves to help others.
---
@Surpassinggoogle

Brief history with us: He joined us along the way when he saw the idea behind what we do. We are glad he did because he has been helpful blessing us with upvotes once in a while and visiting too.
Awesome stuff about him: He created @Steemgigs discord community which is aimed at decentralizing the freelancing atmosphere. Infact he is steemitizing Fiverr. He's also the brain behind the hugely popular #untalented contest series that rewards everyone for voicing their candid opinions about the steem blockchain.
Why You should vote him: He's a hearty personality with memorable writeups and a giving mentality.
---
@Jatinhota

Brief history with us: He's our Indian Witness-Ambassador. We can't explain how he found us but when he did he immediately reached out. He has been very supportive and we really appreciate him for that.
Awesome stuff about him: He's working on a very important project that is going to take over the job from Linkedin he calls it @Steemlinked. This will serve as a business directory, business e-card as well as escrow for services offered. Their website is in development. He's also actively involved in Indian United Discord Community.
Why You should vote him: He's genuinely interested in helping to build communities on Steemit.
---
---
HOW TO VOTE FOR WITNESS
1- Visit https://steemit.com/~witnesses
2- Scroll Down Until you see this box below

3- Enter The Name Of the Witness in The Box (without @)

4- Click "Vote" & It Will Show Below The Box

You can see that #AIR-CLINIC has voted for these 3 witnesses! So do same with immediate effect...
---
---
OUR PATRONS:
We currently have 3 patrons as follows;
@BULLETH: He's very special to us because he's the first person to delegate SP to @AIR-CLINIC. We will never forget that. He also placed us on autovote via steemvoter.com just to help the project grow. Before we forget, he's very bullish on Ethereum too Lolx.

---
@ACKZA: he's that guy that always has multiple ideas on how to grow the steem blockchain, how to invest in cryptos, how to grow African communities etcz. We are glad to have met someone like him because he motivates us always.

---
@DRAGONSLAYER101: he's our South African friend who saw the vision of our aims early enough and joined us. He was there from day 1. We hope to work more with him as time goes on.

SO GO FOLLOW & SUPPORT ALL OF THEM NOW!
---
Thank you all for reading! Cheers!!
---
---
JOIN OUR DISCORD COMMUNITY
https://discord.gg/rqded5m