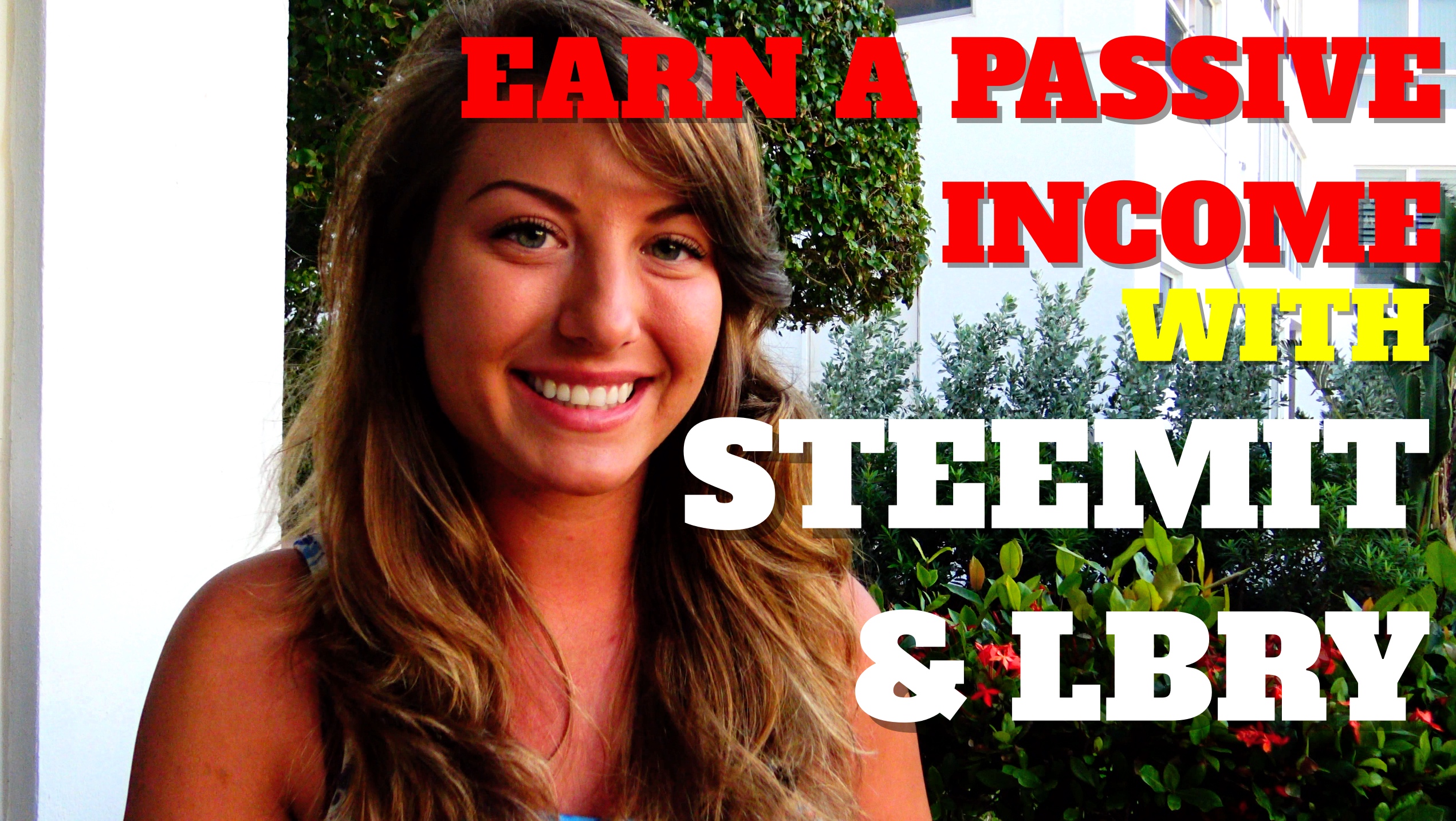 If you're looking for options to earn a passive income with cryptocurrencies, you've found the right place.
There are all sorts of options out there and I'm certainly going to try my best to cover them all, but for today I'm going to focus on the blogging platform Steemit and the video focused platform, LBRY.
First let's check out Steemit.
There are a couple different ways to sign up and get verified on Steemit.
The first is by using your Facebook or Reddit account to verify that you are a real person, this is the "official" registration option as an effort to limit individuals from creating multiple spam accounts.
If you wish to stay more anonymous you can register through a third party payment option and purchase an account. The price isn't that high and this does allow you to keep your other social media information separate.
Once you've gone through the registration process your account is credited with some
steem so that you can participate with the platform.
If you've got more questions on how this set up process works I suggest checking out SteemitHelp it was created by the great steemit user @thecryptofiend and has a ton of info that can help beginners better understand the basics about Steemit.
A lot of people ask how the payouts actually work and how people actually make money, like where does the money come from?
Well lucky for you, I attended Steemfest in Lisbon this year where I was able to speak with a fellow steemian who's great at explaining complex topics for the average person to understand.
He described it to me like this:
Imagine a big pool filled with steem coins, this is the rewards pool.
Anyone with an account on Steemit is granted access to this pool when they upvote a post.
The amount of steem power that a person has in their own account determines how big of a percentage of this rewards pool they can distribute when they place an upvote.
The more steem power a person has, the more money their upvote gives to posts.
When you downvote a post (which hopefully you'd only do if it was spam or plagiarism) if you have enough steem power, this sends the amount of money raised by that post back into the rewards pool.
Your upvotes decrease in power if you go on a voting spree, but every 24 hours the voting power is replenished.
Basically, it's free to signup and it doesn't cost you a thing to vote on content that you enjoy or appreciate.
You can also earn curation rewards for upvoting good content.
You can also of course post your own content and earn rewards through the upvotes that you receive.
The Steemit Network runs on delegated proof of stake consensus so the top delegates who work to improve the network and have enough votes of support get paid to do so.
In addition to the blogging platform Steemit, you can also use other applications on the Steem blockchain to earn an income like:
a video hosting site that pays you similar to steemit with upvotes.
An app similar to Instagram in that it is designed for sharing photographs.
This site lets developers get paid for contributing to open source projects.
With these applications you'll be paid in Steem through the upvotes that you receive, just like with Steemit.
If you weren't blessed with the writing skills of Mark Twain or a photogenic eye like Ansel Adams, and instead you like to dabble with producing videos, perhaps LBRY is a better fit for you.
The sign up process is really easy but first you'll have to download the application. This won't take much time and only takes up about 200 MB onto your computer.
Once you've got the application downloaded you'll be asked for your email, which isn't required, but if you do give this to verify yourself you'll receive 1 LBRY credit.
You will need to have some LBRY credits in your account if you want to publish content.
The reason being that you'll need some in order to reserve your channel name and also to publish the actual content. Having to purchase a channel name reduces spam content, it's also much like the Ethereum Name Service in that this ensures channels are operated by legitimate individuals.
LBRY also allows you to obtain free LBRY credits a couple different ways but first you will need to verify your identity.
They give you some verification options like:
providing a credit or debit card
synching your youtube channel if you have one
"verification" channel in the discord chat room
You can earn LBRY credits by:
inviting friends
you can claim referral rewards once the individual verifies their "humanness test".
There are even easier options that are aimed at first time users, these include:
streaming literally anything
creating a channel
first time publishing content
checking out the #LBRYCast section.
And that's only the beginning, the real way to earn LBRY credits is by publishing your content. You can choose to offer your material for free or set a fee to be charged per view or download.
Even if you're not too interested in creating or posting content here, I can definitely see this one taking off.
At this point, anything that offers a solution to censorship has potential for growth- especially considering the concerns of net neutrality lately.
It's important to remember that both of these platform are still in their beta phase, meaning that they are still working to improve on user experience.
Here are some other ways you can earn a little bit of crypto by using your time and knowledge:
These are definitely more time consuming and probably less fulfilling, but if you've got some free time and you're looking to get a hold of some crypto without investing your own money, these could work out for you.
You can find links to all of these sites down below.
I hope these short intros to the Steemit and LBRY platforms will inspire you to indulge your creative side so that you can share your work with a great audience and also get paid in a crypto that has room to grow over time.
Stay tuned for the next videos in this series as they will be exploring the other kinds of ways to earn a passive income with crypto.
Additional Reading/Sources: