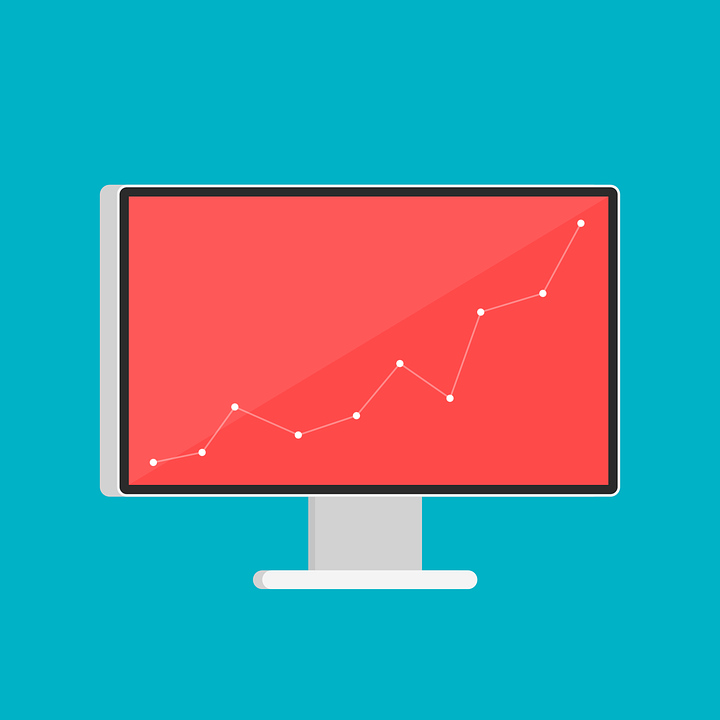 So, on the Steem Panel Discussion today we talked some about the state of the economy, and one of the points of discussion was the sudden spike in the price of SBD. There are many voices calling for Steemit and the witnesses to alter the economics and attempt to drive the price back to 1USD / 1SBD. There are good reasons to do that, but I'm of the opinion that we should enjoy the SBD being high, it's good and egalitarian for the platform, and the plan should be to do absolutely nothing about it. Not a damn thing!
Options I've heard
"Get rid of the SBD" - Literally stop having them be an option... hard to implement given that 3.6M are already outstanding, but it would make Steem and Steem power the only things on the platform.
"Print more SBDs" - Do things like allow 75% payout in SBD or witness production rewards in sbd. This should lower the price by increasing the supply. Neat ideas, but this also adds more SBD, which is a debt instrument to the platform and could have negative consequences down the road.
"Change the Bias" - This is a witness setting that works as a platform ratio, tweaking it higher can produce more SBD, but also weakens conversion of SBD into steem (and it's already a 90% loss if you convert). This feels like a band aid that isn't worth it.
"Let SBD be converted back into Steem" - this is probably the most popular option and it would allow a direct conversion of steem into SBD, which would allow Steem the ability to capture the rise in SBD price. I'm against this because I want the value going to the posters as opposed to the historic owners of steem power.
Overall goal
People want their account value to rise. As much as this platform has great values (moral) we also are trying to extract value (financial) from it. Naturally folks want the value of wallets to rise and that means Steem and potentially SBD rising in value.
I want the value of steem to rise, but here's my challenge. The distribution of steem is extremely warped. 93% of the steem is in less than 1% of the accounts. That's not a good distribution. Even feudalism didn't have that, and while I love nearly everything this platform I truly hate that piece of it. That's the distribution of Steem, but not the distribution of SBDs. SBDs are tied to author rewards more than historic Steem ownership and so the distribution of those can be approximated to this graph.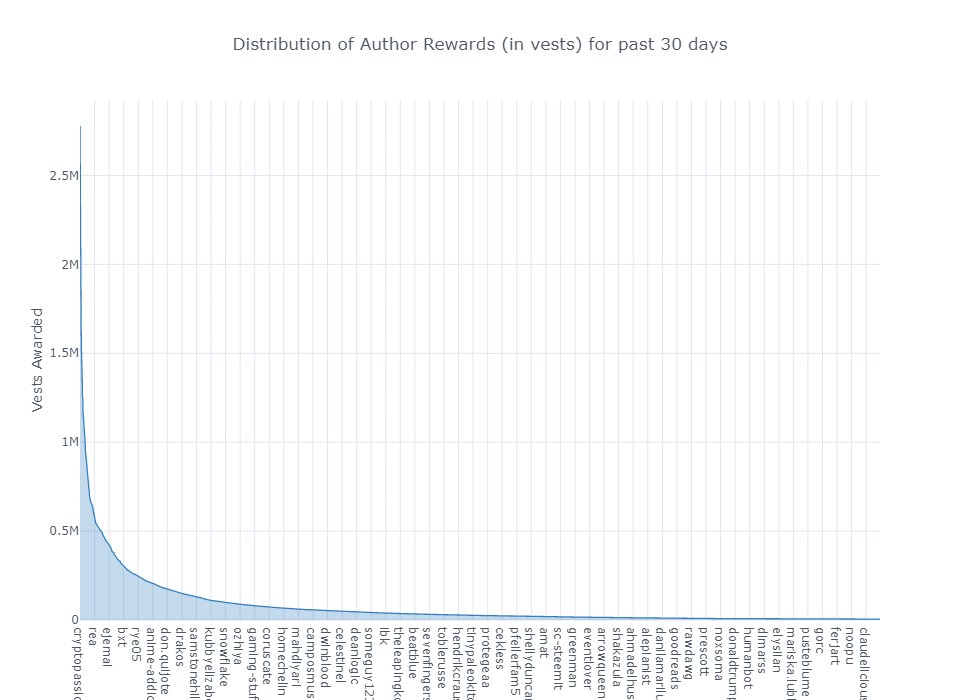 That graph doesn't quite show the whole story as it doesn't really show how many of those post rewards are created by the bid bots and that money then flows back to the primary steem holders, but it's one of the best representations that I have available. And it'll have to do. Bid bots are only about 5% of the SP so that graph doesn't quite show that @freedom and @blocktrades and maybe a few others are getting fat paychecks from this, but at least we know that it's not 25 accounts that earn it all on post rewards.
My option
Do nothing and HODL! The price of SBD will rise and rise a ton. that's because we're trying to fuel an internet worth of commerce with 3.6M tokens that barely change amount in a given year. So... those fuckers are gonna keep skyrocketing if we don't change it. Personally I like that idea. It's going to help this place grow. At some point you're going to buy a house with 10k SBD, and it'll be a nice house. This is a good thing for the posters on the platform and if we keep attracting posters to the platform that's ultimately good for the steem investors too.
Why do we have Steem and SBDs?
When this platform first started bitcoin wasn't at $15kUSD/coin. Most people didn't know shit about the space, and no one had any idea why we should be looking at these things. The creators of the platform decided at the very least we were going to need something pretty familiar to money used every day to have it make any sense. So, they created the SBD. This was also at the time when they were using vests, which most of you may not have even heard of and vests eventually turned into Steem Power on the front end (though vests are still used in the backend).
From the start SBD was intended to always be worth a dollar worth of steem, but free markets being free markets, have made SBD something closer to the following definition: a unit of exchange worth a minimum of $1 USD worth of Steem. Witnesses can mostly guarantee a minimum of $1 USD worth of Steem by using the fact that SBD is a debt instrument. The block can literally award people interest in steem as the currency for those holding SBD. So when the price of SBD dips below $1 USD the witnesses can raise interest rates to make it more attractive and award the SBD holders a larger and larger portion of the inflationary awards on the system until we get back to a 1USD/1SBD valuation.
A Peg
It was supposed to be a peg to make transactions easier on the web. Not only can you do fast transactions without any fees using SBDs, but you can rest easy that they are worth $1USD today of Steem and will be a week from now. From a merchant stand point what you really want is a stable currency. You want to be able to buy and sell goods at prices that don't fluctuate much. You want it so when you order cotton to make your shirt that there isn't a 10x swing in the price of cotton or the shirts as it's really freaking hard to run a business on that.
A major challenge to the price stability is the supply. There's only 3.6 Million of these coins in existence. That's like 1/7th the number of bitcoins. There really aren't that many of these suckers. So, it doesn't take a lot of buying activity to push the price up and up and up! Recently we saw a Korean exchange start trading Steem and SBD and since that happened they've purchased over $8M USD worth of coins, and we're seeing the effect in the price of SBD and steem.
So, free markets being free markets and with there only 3.6M of these babies in existence we're getting a spike. I'm not ready to call this a pump. I think it may actually be a new normal, and just the beginning of this depending on how the platform and the witnesses move forward. The supply increases about 23k/day right now, but they can also be destroyed through converting to steem (don't do this now or you'll lose 90% of the value of your sbd), promoting a post, or lost on the interwebs. So, if we do nothing I think the answer is that the price will continue to rise and rise!
Benefit of rising price
Post rewards are going through the roof. High post rewards (especially if we switch the condenser frontend to show the value in USD instead of SBD) will bring an assload of people to Steem, which will fuel more growth, which should push the price higher!
Fiat inflation wars
If you pay attention to politics in the world there's a lot of emphasis on currency manipulation. A government takes out a loan, and then they want massive amounts of inflation so it's easier to pay it off. Banks are happy with inflation because it's easier to get higher loan amounts and ultimately leads to huge amounts of debt payments. Big companies want low dollar values typically so they can export things more cheaply and capture return basically by devaluing labor in the country. The people that don't want inflation are the normal pleabs. Especially with flat wages it just means you're gonna have to take on a second or third job to pay your bills.
Deflation
The banks will tell you that deflation is horrible and the sky will fall, but if you're brand new here let me be the first to tell you that those bankers are assholes.
I want to hold a currency and wait a year and be able to purchase more groceries with them, which is the exact opposite of what we have now. This type of deflation is good for the people. It's great for the platform. It's gonna make posters on here millionaires.
The challenge of a floating SBD
This makes it a challenge to sell things with SBD. A strong currency hurts exports, but at the moment we don't really have any other than entertainment, so I'm not worried about killing a Steem car industry. So, for us, there isn't a down side to high SBDs. And we lost the peg... so what, there isnt' a ton of commerce on the platform anyway so who cares? Peerhubs exists, but they can just as easily list prices in USD which is relatively stable because of the volume of it, but still accept steem and SBD as payment.
We dont' have 8 million steem backed merchants, and the ones we do have already have tools to convert between USD, Euros, SBD, steem, btc, and all the other coins that they may have to deal in. My point is that the people hurt the most by a fluctuating currency are the merchants, but the good news is that we don't have that many, but we do have 30k active users looking to earn money by blogging. So, let's help them!
The skinny
The short answer is that we're not really hurting anyone with a high sbd, it's going to attract new people here, and it's nice to get paid in a way that supports the active community rather than the original steem holders, which don't have a nice distribution in my eyes.
What's my conclusion?
Don't do shit. Don't print more sbd, don't convert back and forth, don't change the bias. Do write and post more and enjoy the rewards, do change the website to display in other currencies, do enjoy having a strong dollar, and enjoy being able to purchase other coins more cheaply from highly rewarded posts.
What if SBD crashes?
That's different. I would support raising interest on sbd to support a $1 point again so that we meet the promise of a minimum of $1, but I'm pretty sure we shouldn't do anything to change how SBD functions and just enjoy the ride and high price.