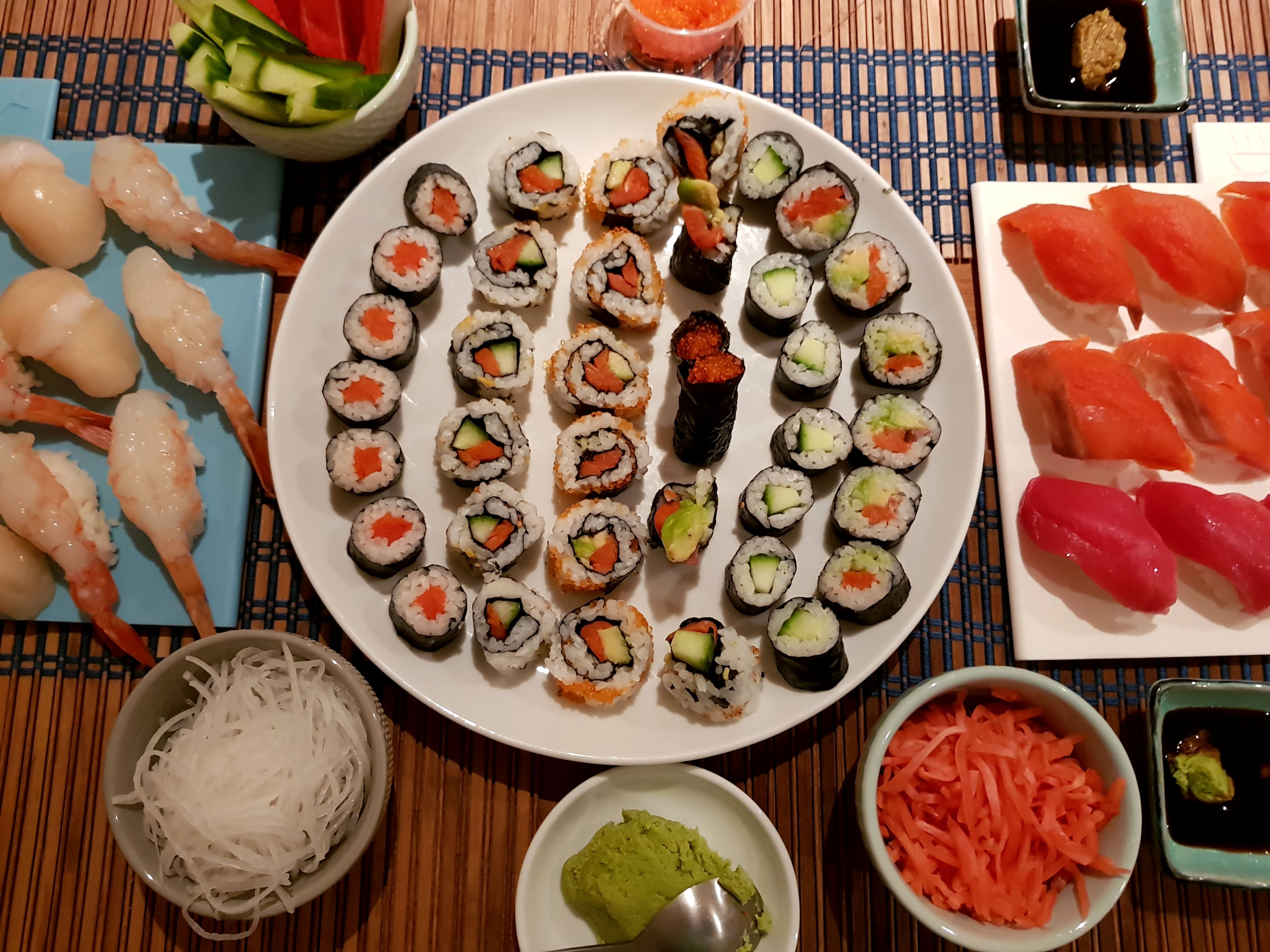 ---
Atari-Ya in West London is "the" best takeaway sushi place we go to if you settle for nothing but the very best. This inconspicuous little shop offers a wide range of the freshest quality fish in London. There are expert chefs at the counter preparing some of the silkiest sashimi and sushi dishes around and offering up some of the best tuna available on the market.
Our friends @exyle and @bkdbkd happened to be here visiting us so I suggested we get some of fresh fish from Atari-Ya and make them a nice sushi meal at home as I knew beforehand they are also big fans of Sushi, just like me and @ezzy, lol.

Atari-Ya is located just a minute away from West Acton underground station, a couple of blocks away from a popular Japanese School there. It seems a huge Japanese community resides in those parts.
The shop itself is on the small side but always very busy with long queues, mostly Japanese expats. That's a key sign to knowing if this place is legit or not, lol.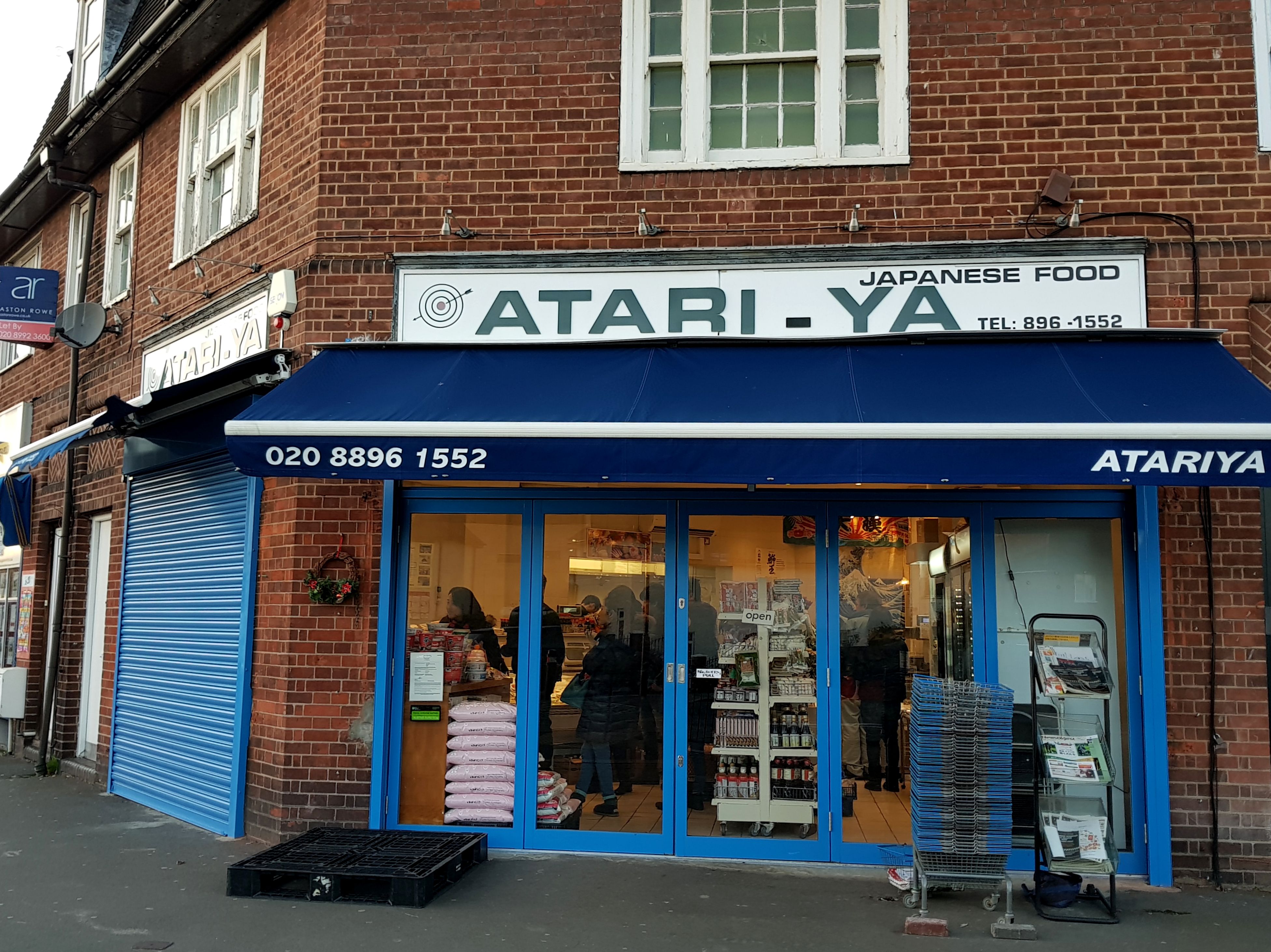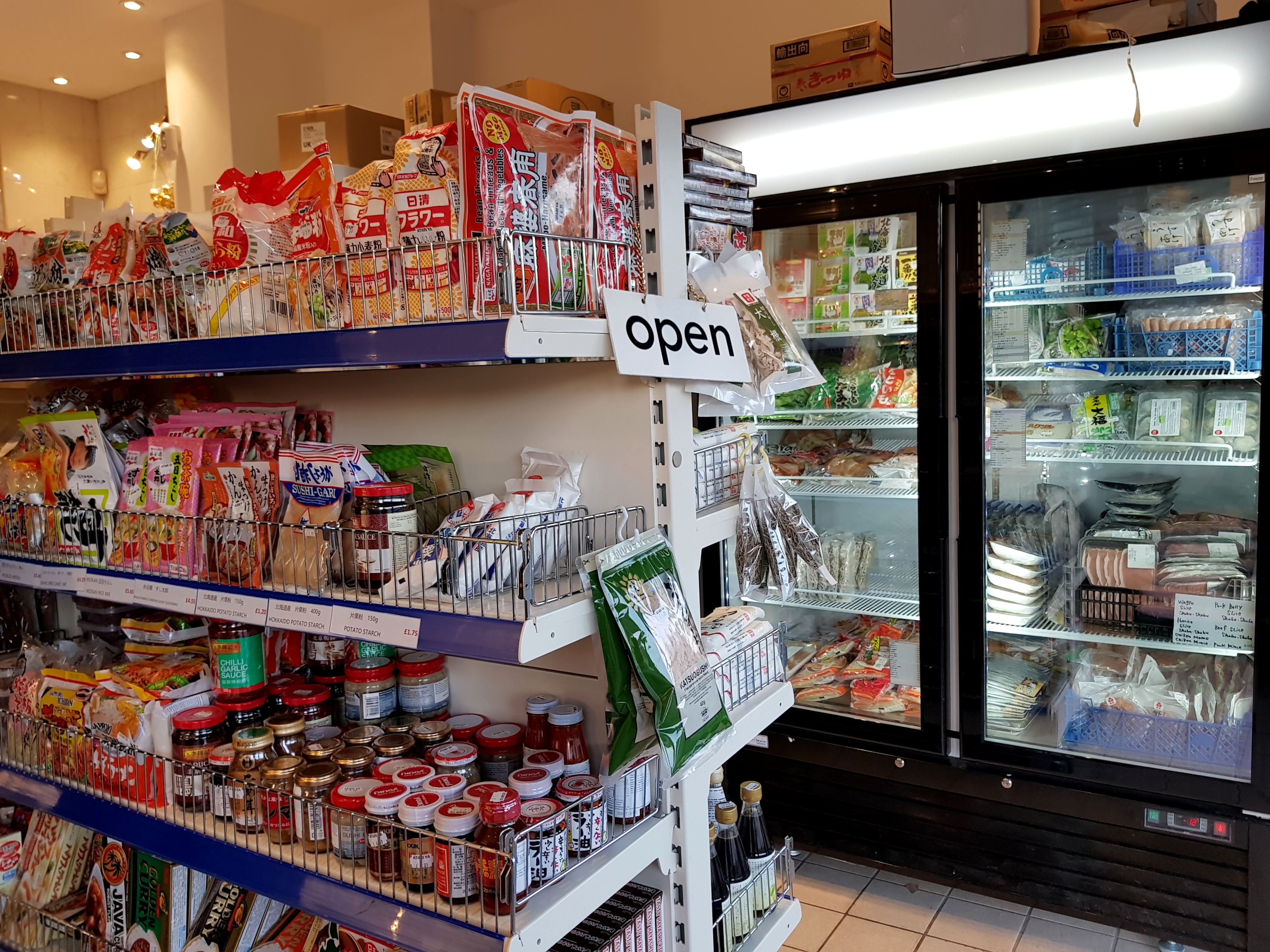 ---
Atari-Ya offers a wide range of high quality Japanese foods including rice, vinegar, wasabi, soy sauce and noodles. There are a lot of shrink wrapped meats and packaged fish on the front counter behind the glass. The seasoning they use is the delicious Miso which is made from fermented soybeans and is the perfect way of adding "umami" flavouring to your selections of meat and fish!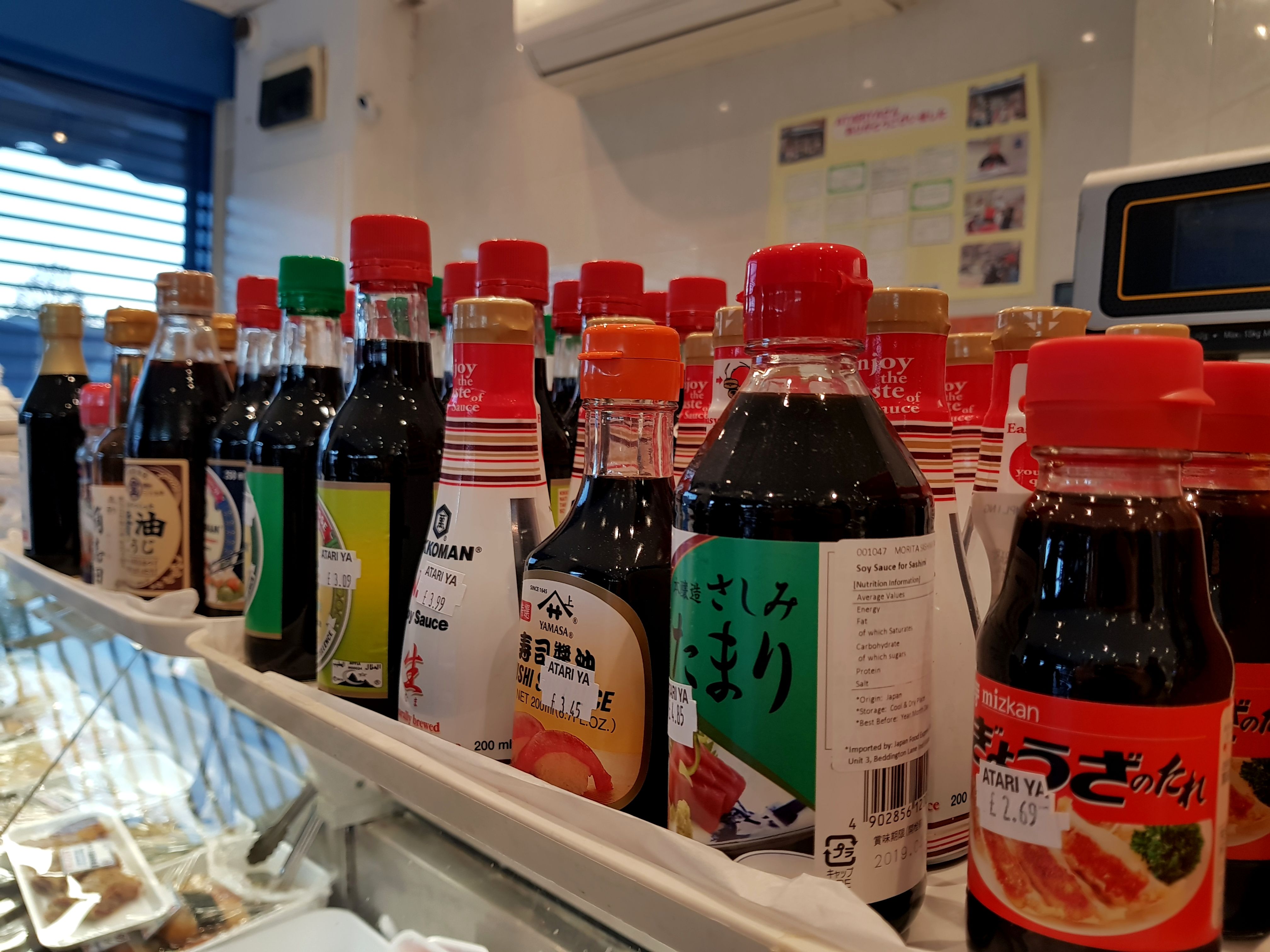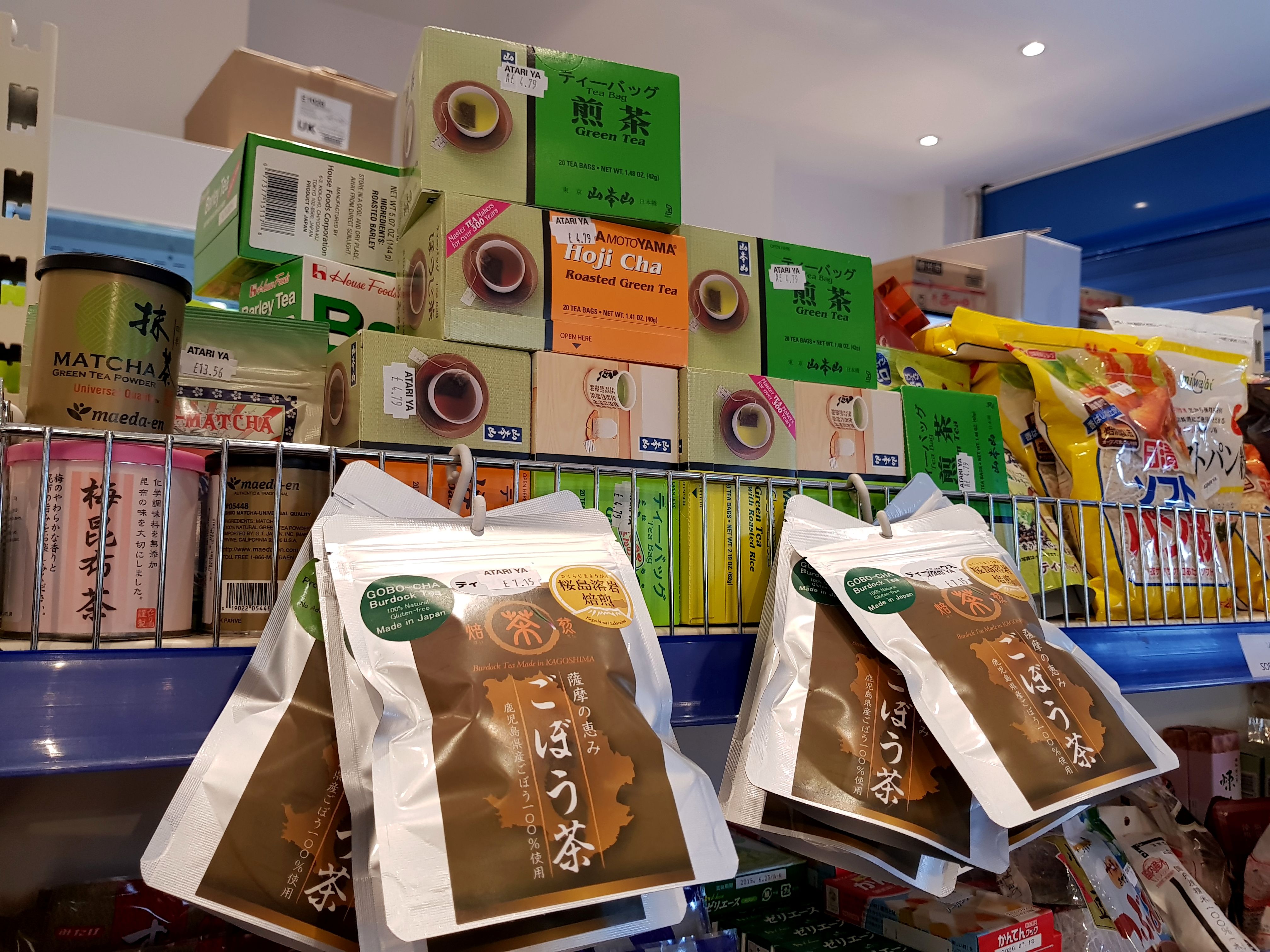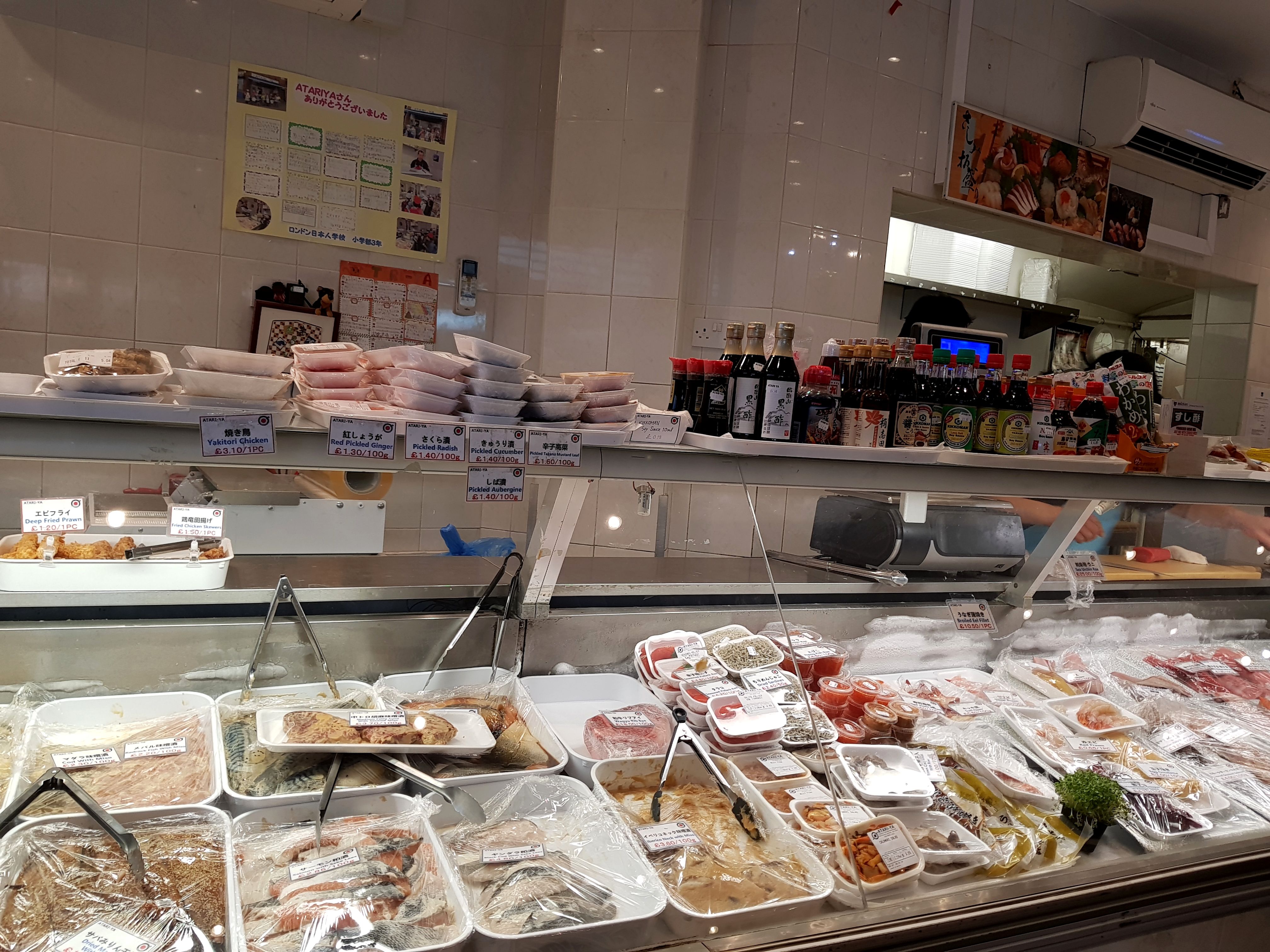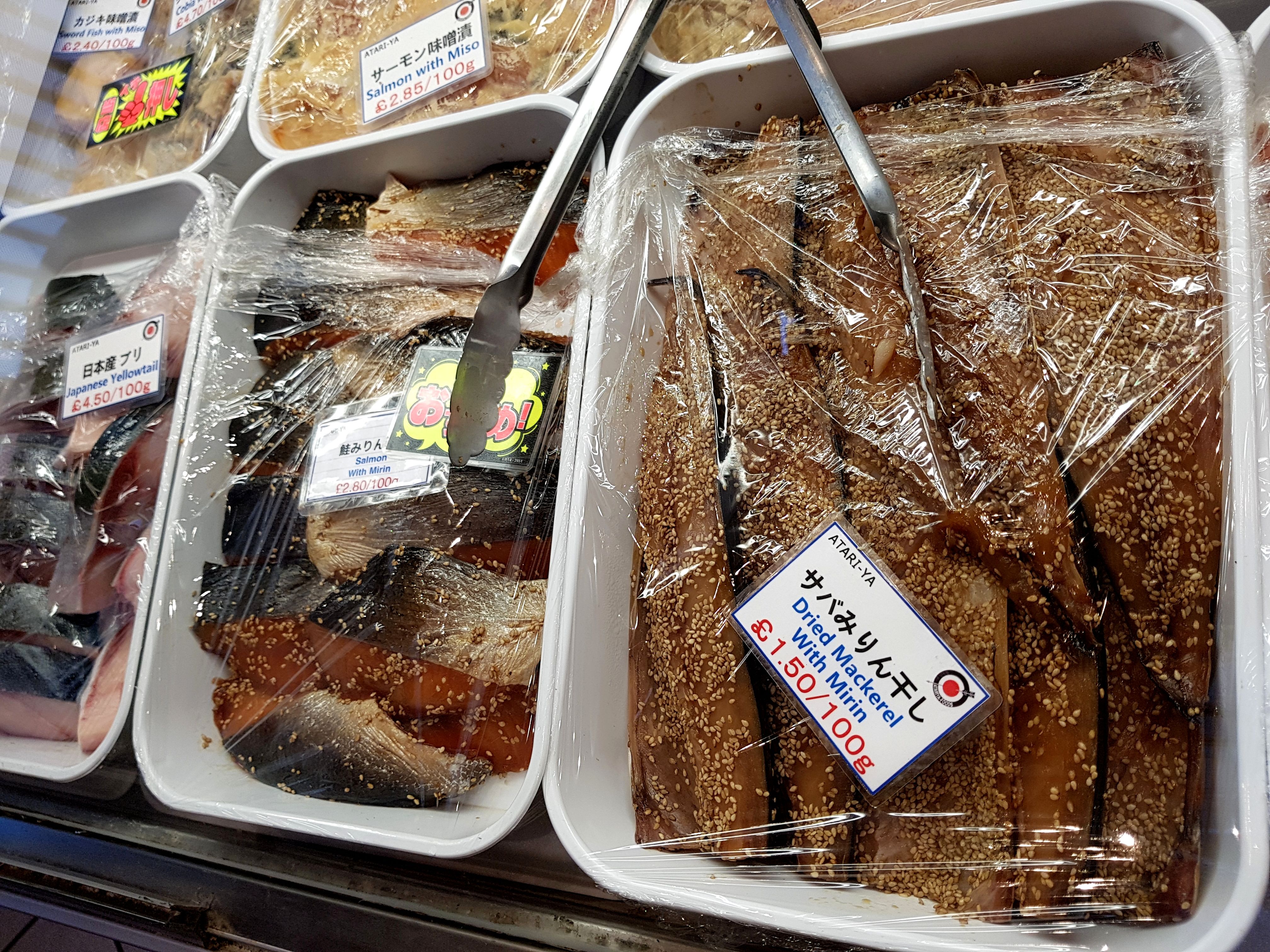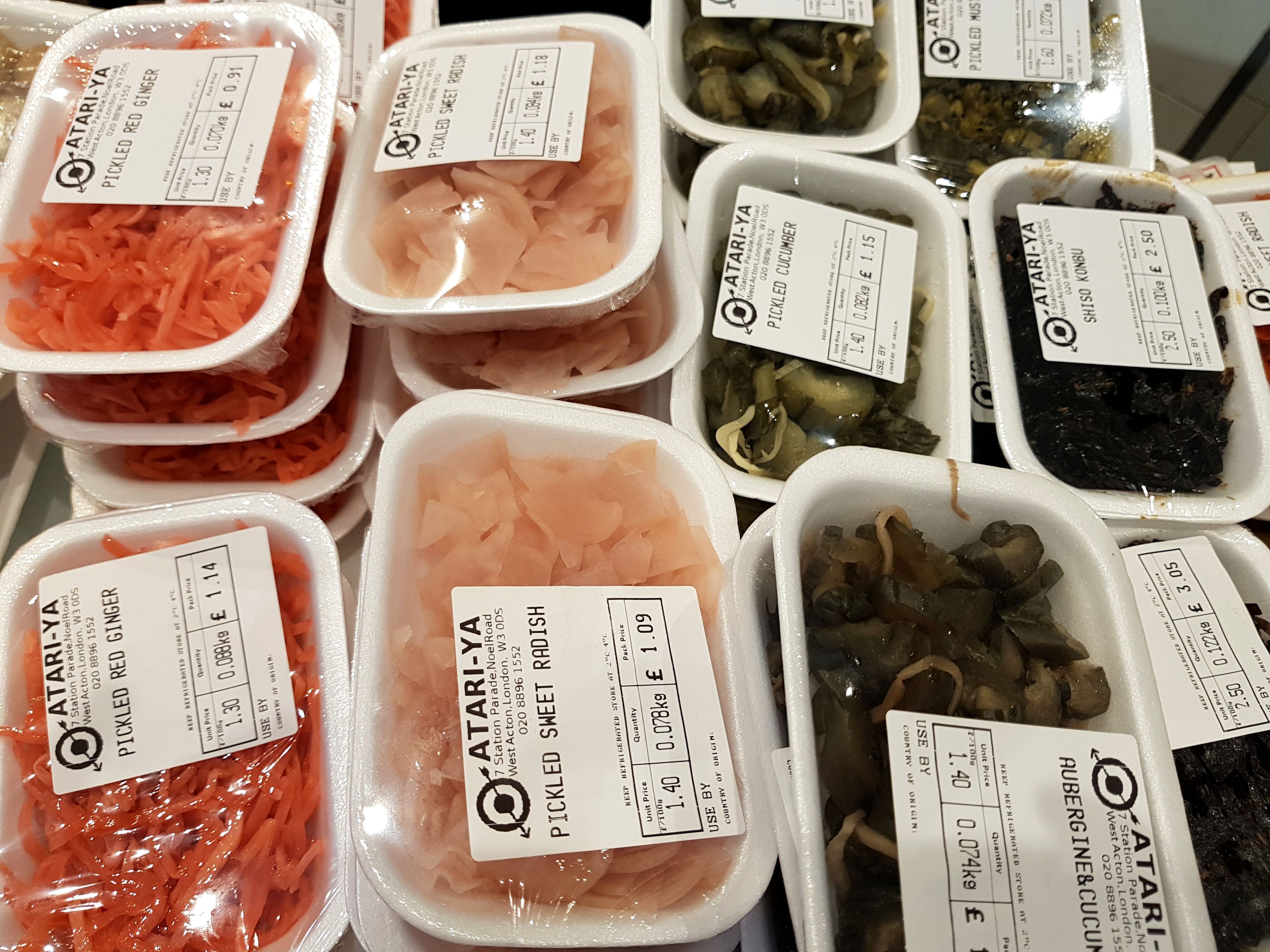 ---
My favourite part of the shop is the fish counter selling top quality sashimi grade seafood, prepared and cut by the skilled staff working there. The main chef behind the counter looked very experienced hold an extremely sharp knife in one hand and slicing the fish to perfection. Another great thing about fresh counter is that you can request the fish cut exactly as required. For example, sashimi style or nigiri style.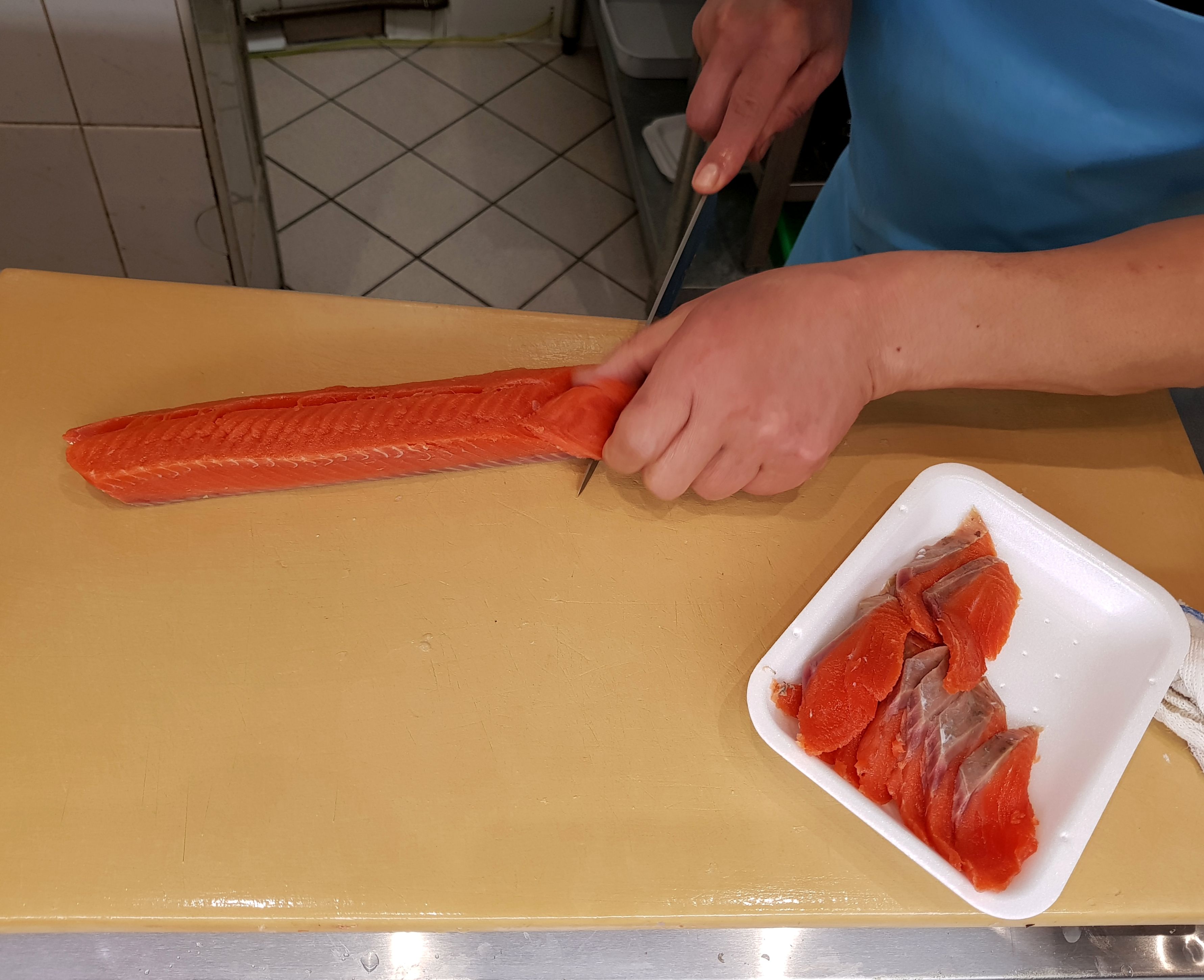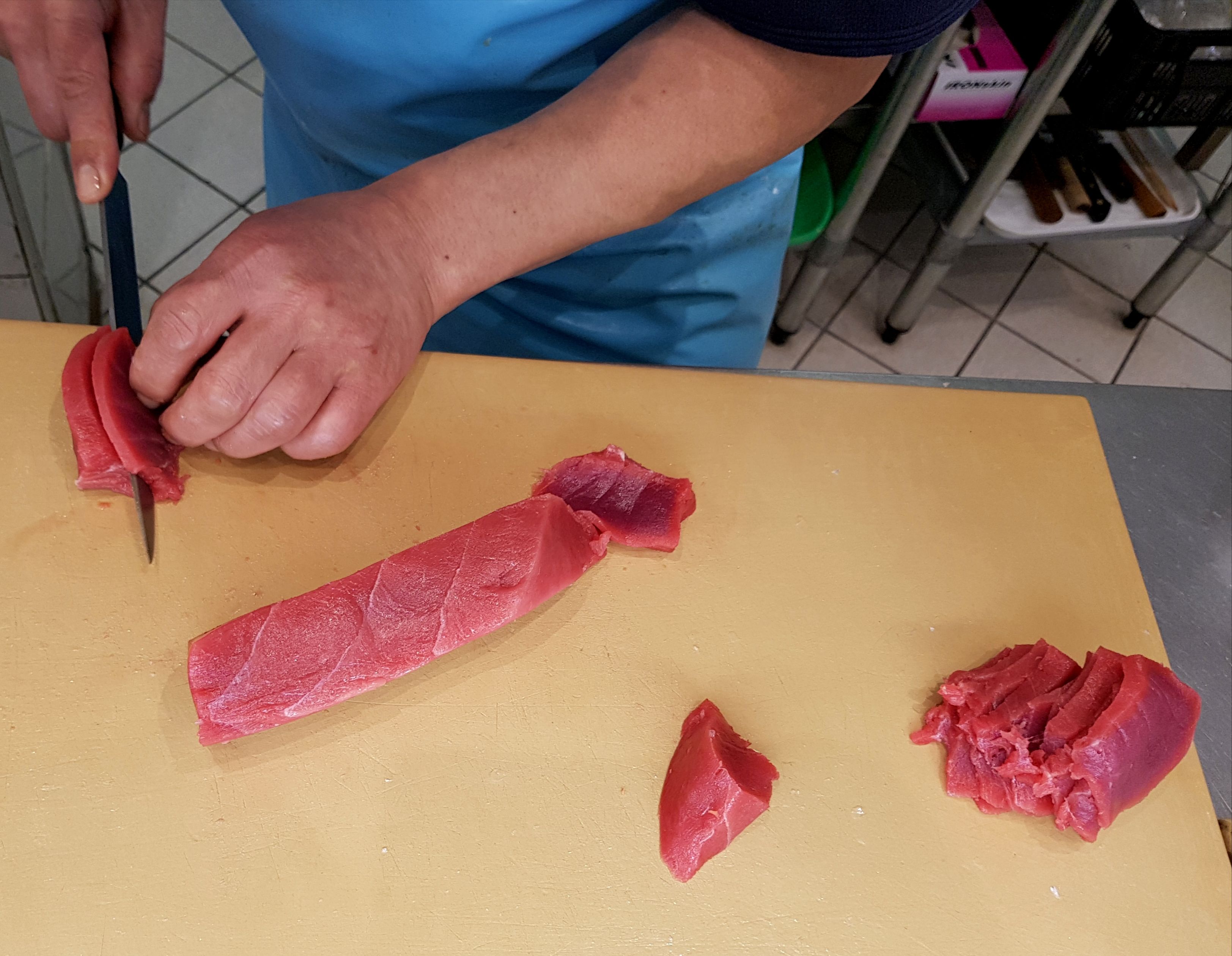 ---
We ordered a selection of sashimi to take home with us, including 40 pieces of Salmon, 20 pieces of Tuna, 10 pieces each for the sweet red prawn and scallops as well as some fish roe. These are all my favourites and proved to be quite the banquet, lol. The total price was about £75 pounds which is quite reasonable by Central London standards. Imagine the same meal at a sushi restaurant! It will set up back no less than £200, for sure.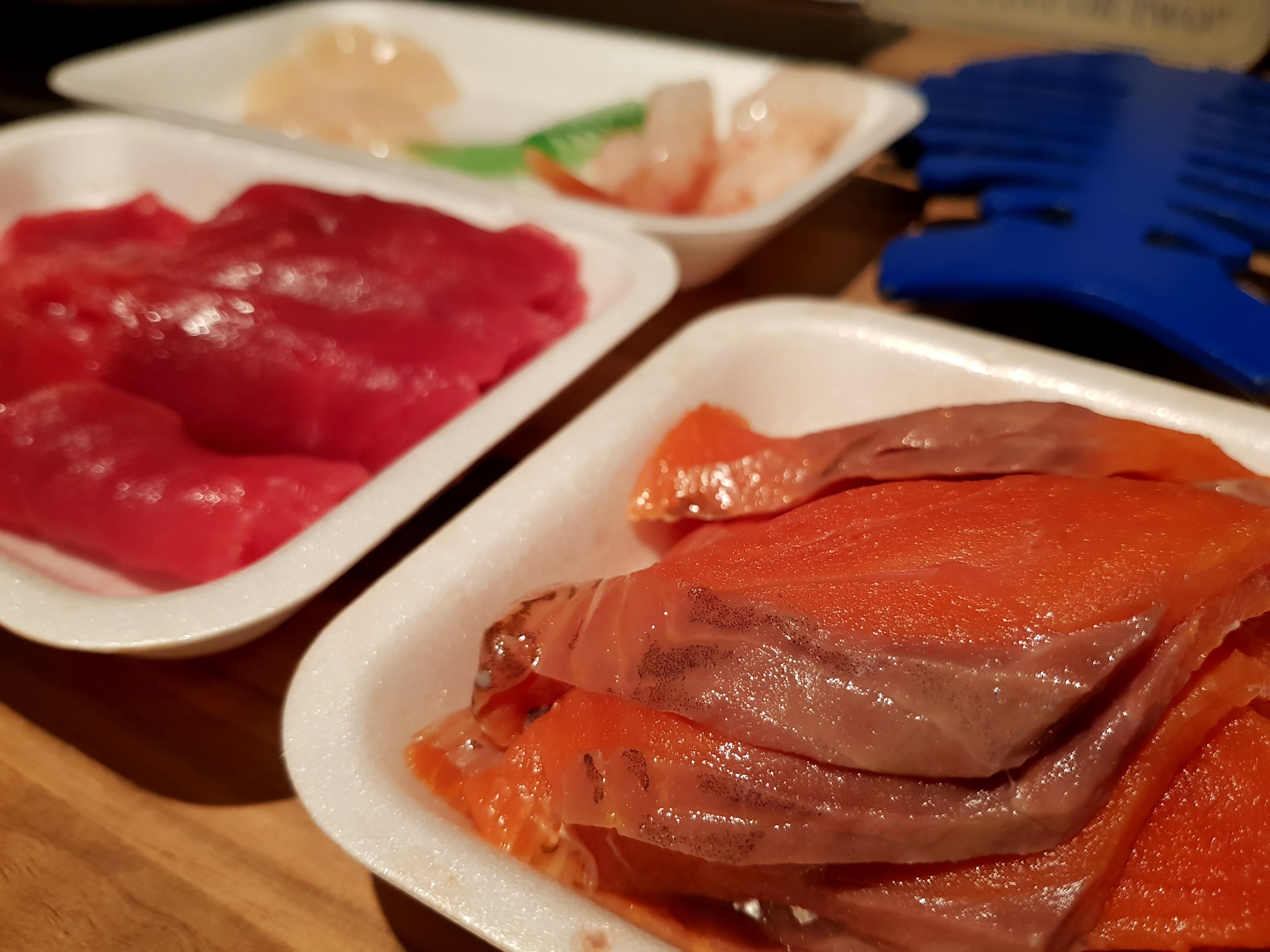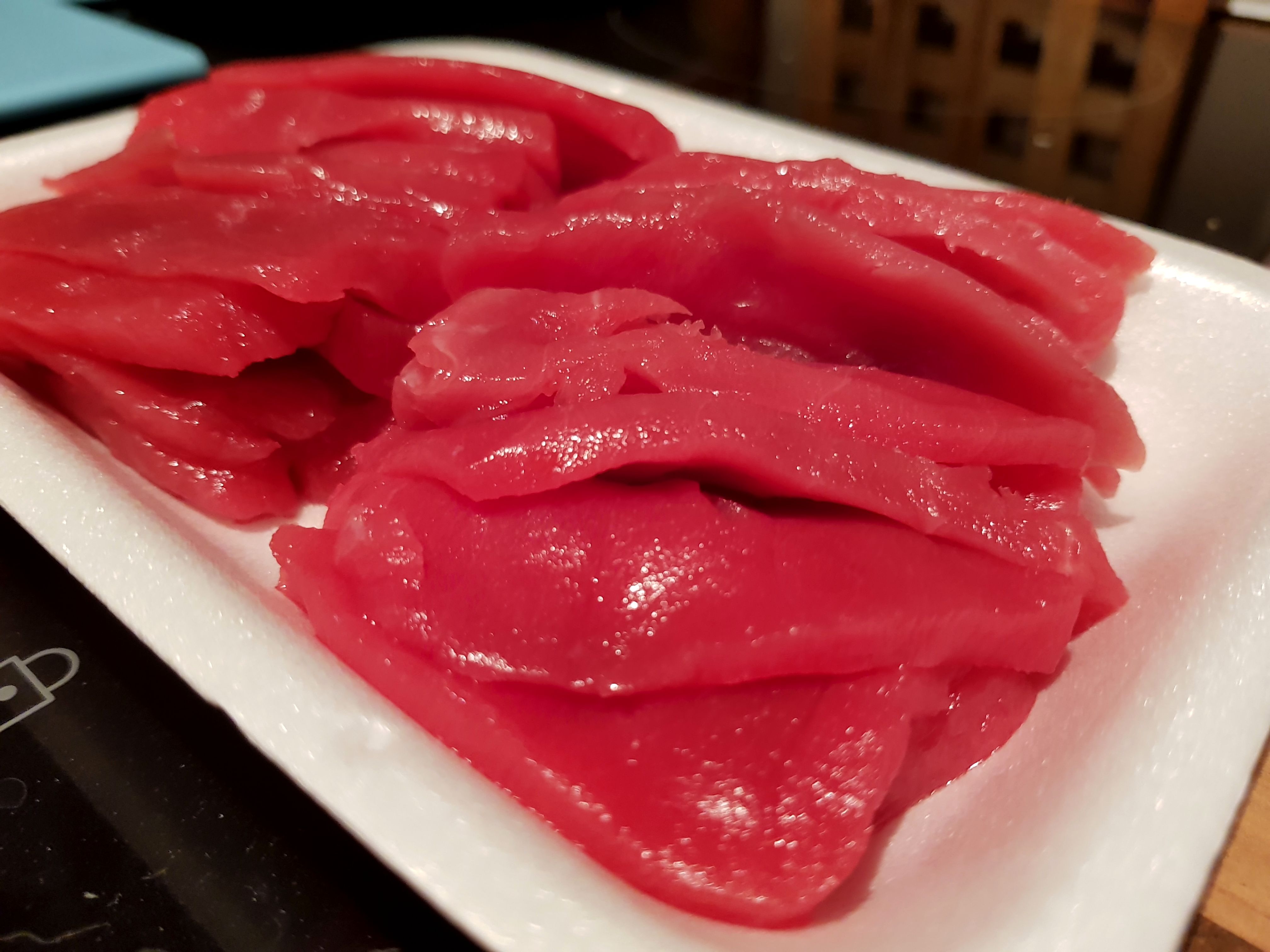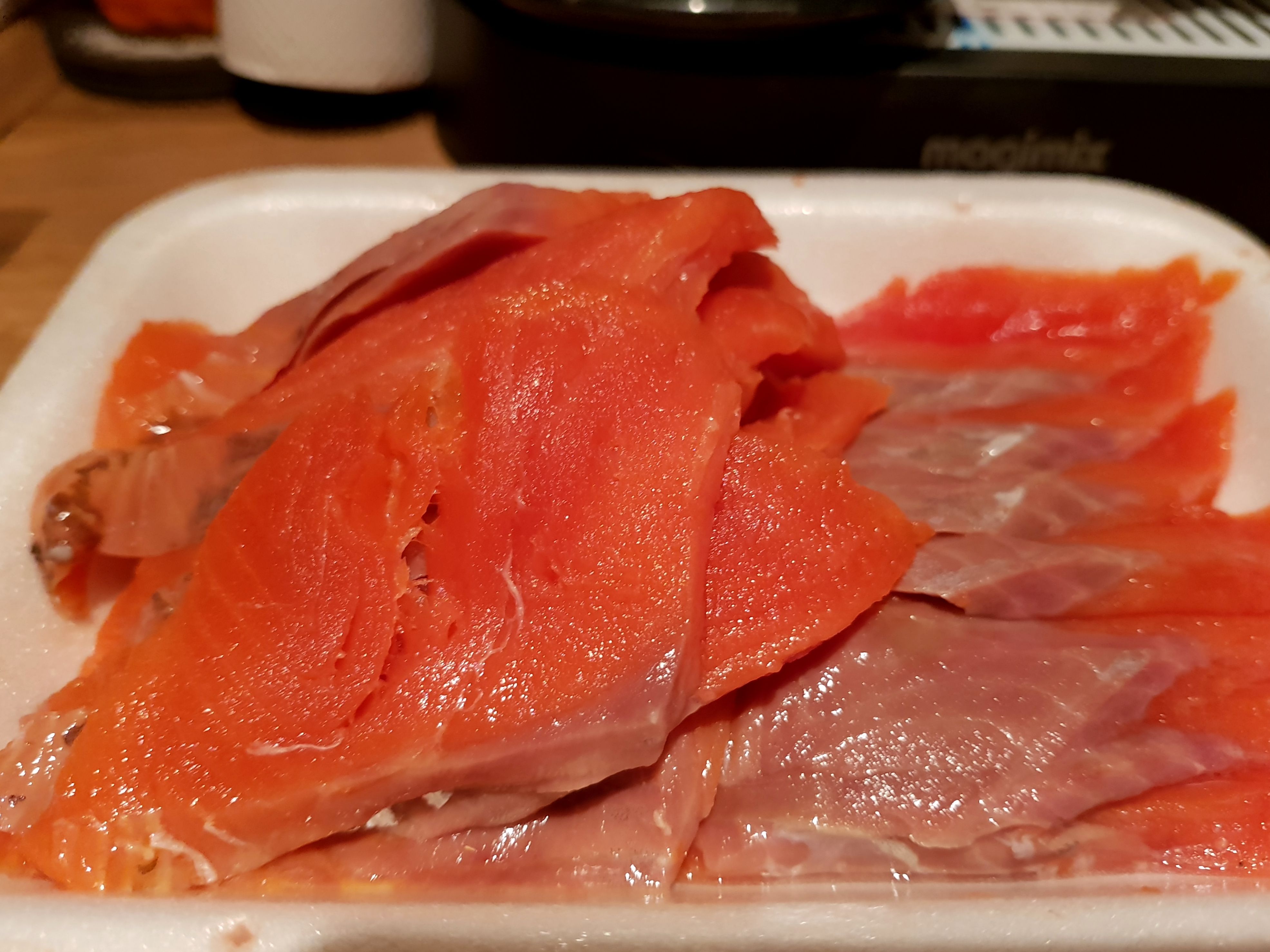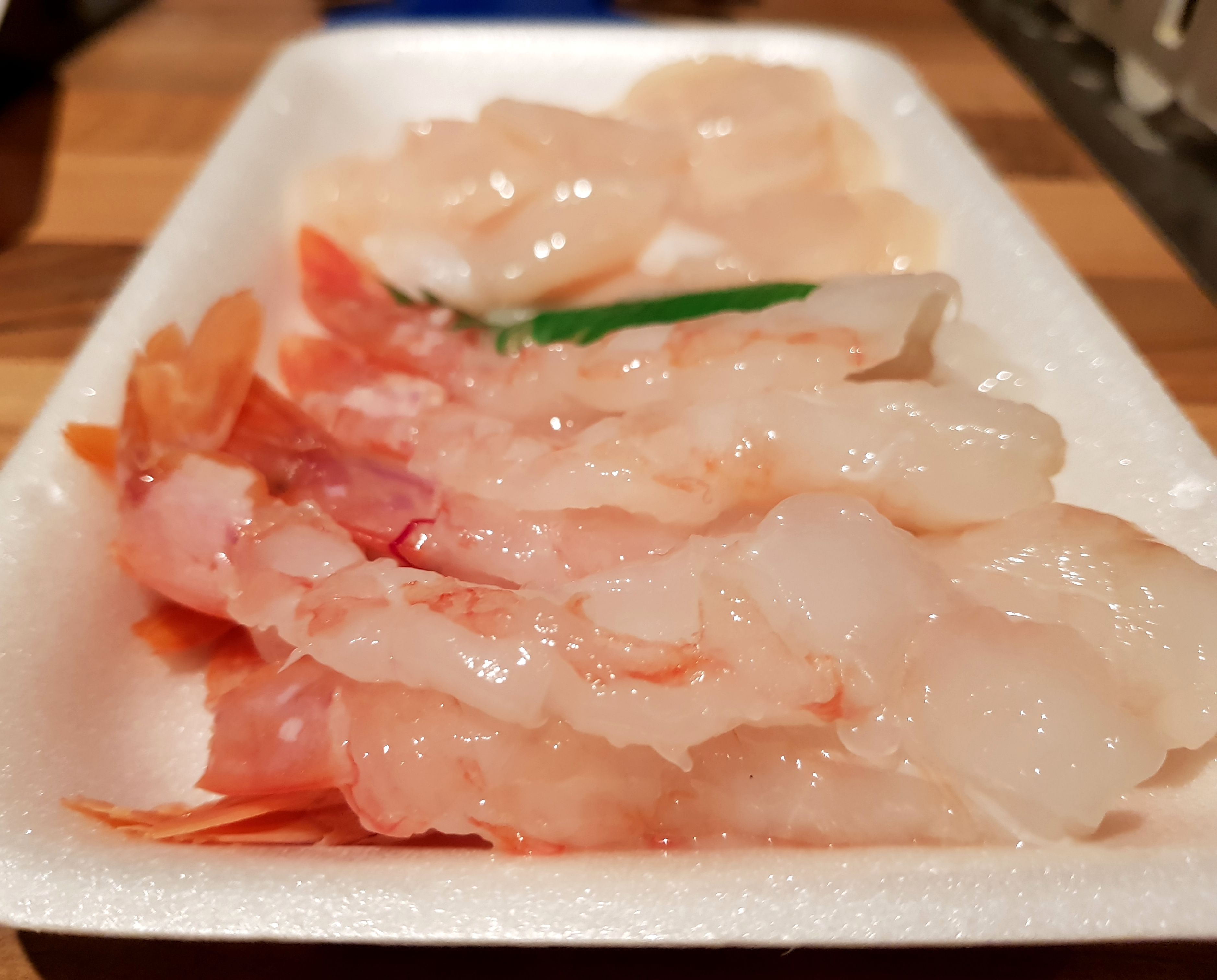 A couple of hours hard work later from the kitchen and.. "Ta-Da!" A delicious, authentic Japanese sushi meal is prepared and ready! For my Steemian friends who would like to learn this recipe, please check out back to my previous post, Sushi Made Easy.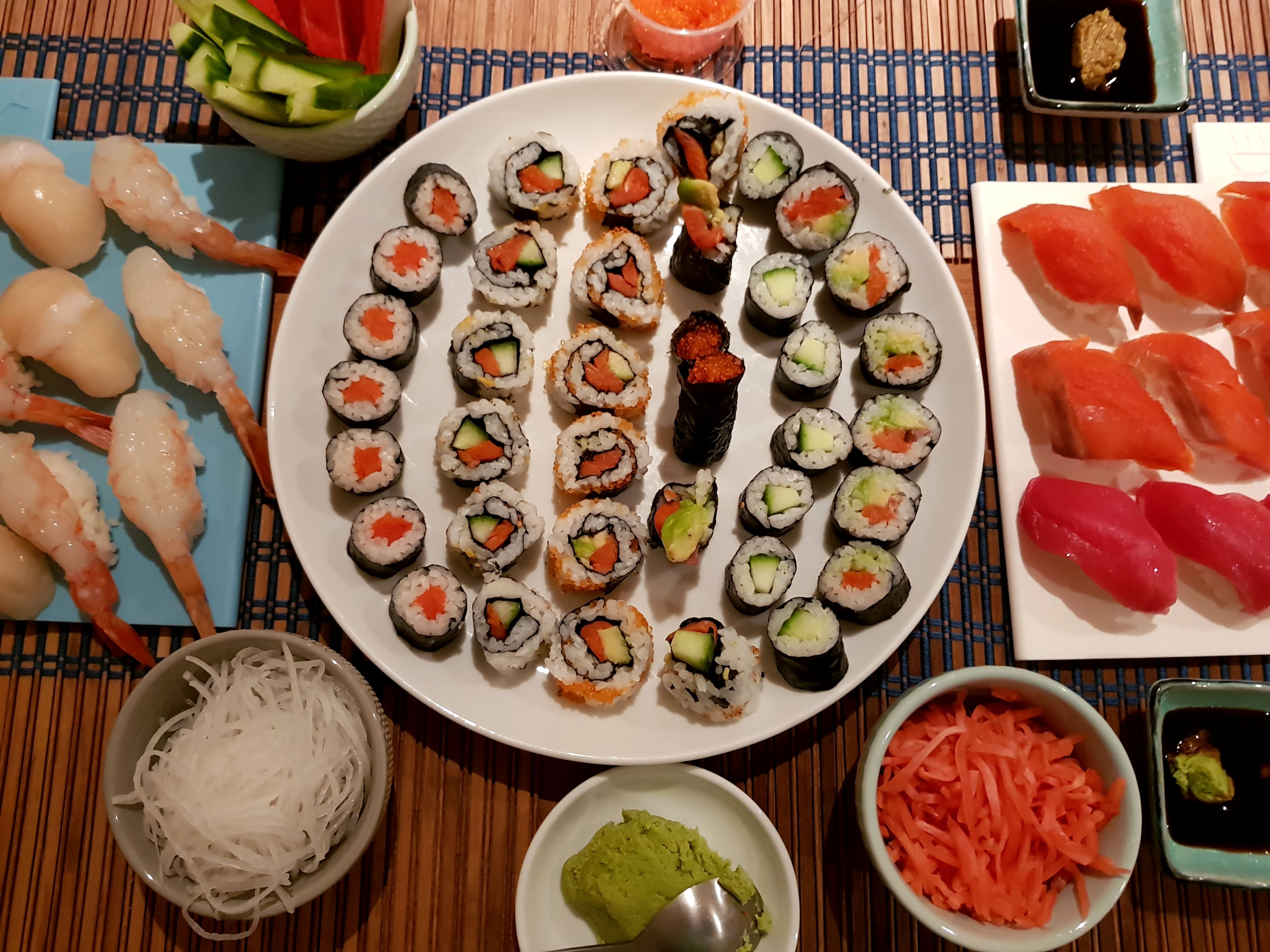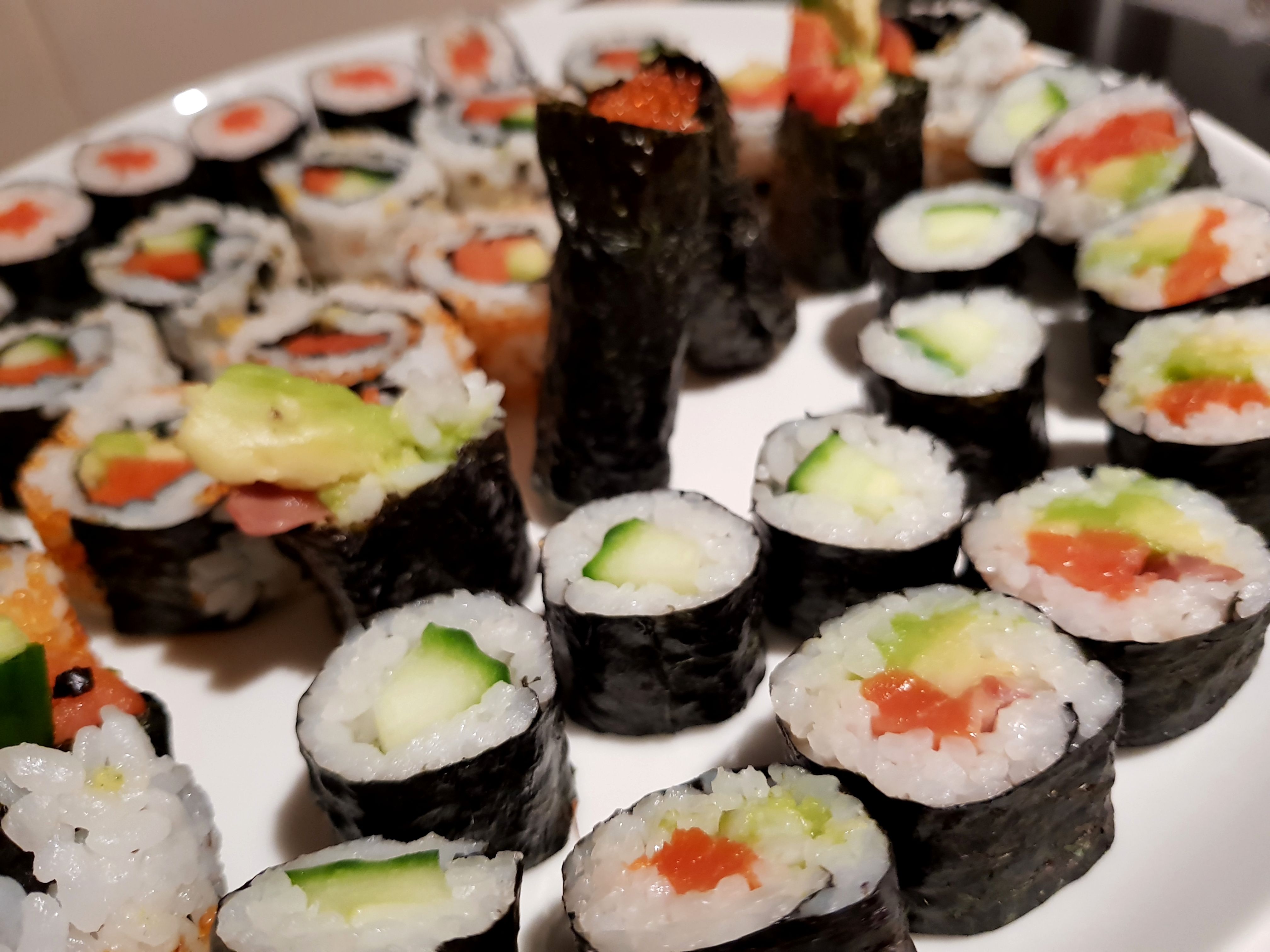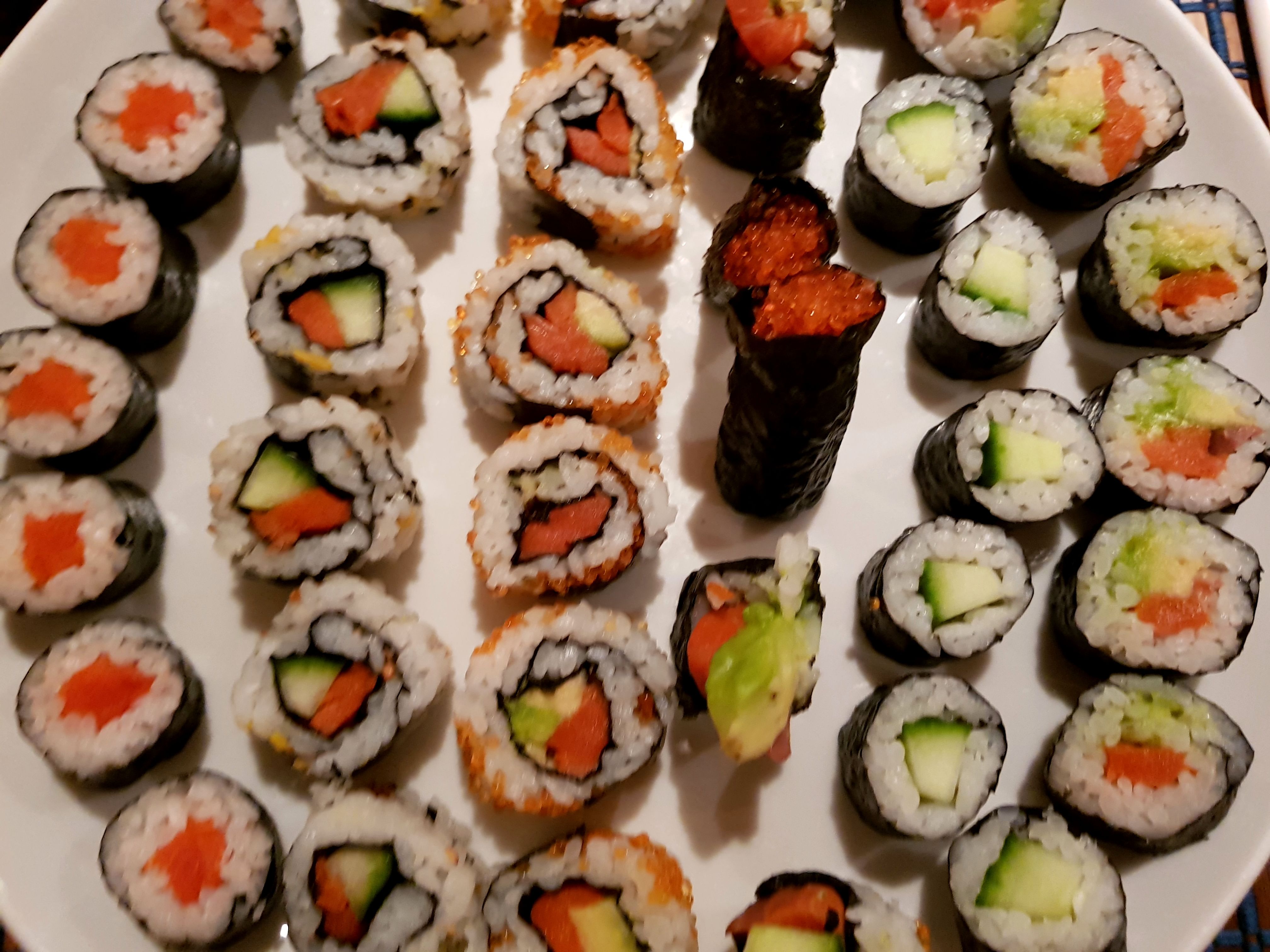 Hmmm, so tasty... Where do I begin, lol! The soft texture of the vinegar rice is just right with the seafood being as fresh as you can get. Quite the combination! The tuna and salmon were so tender as each smooth slice almost melts in your mouth!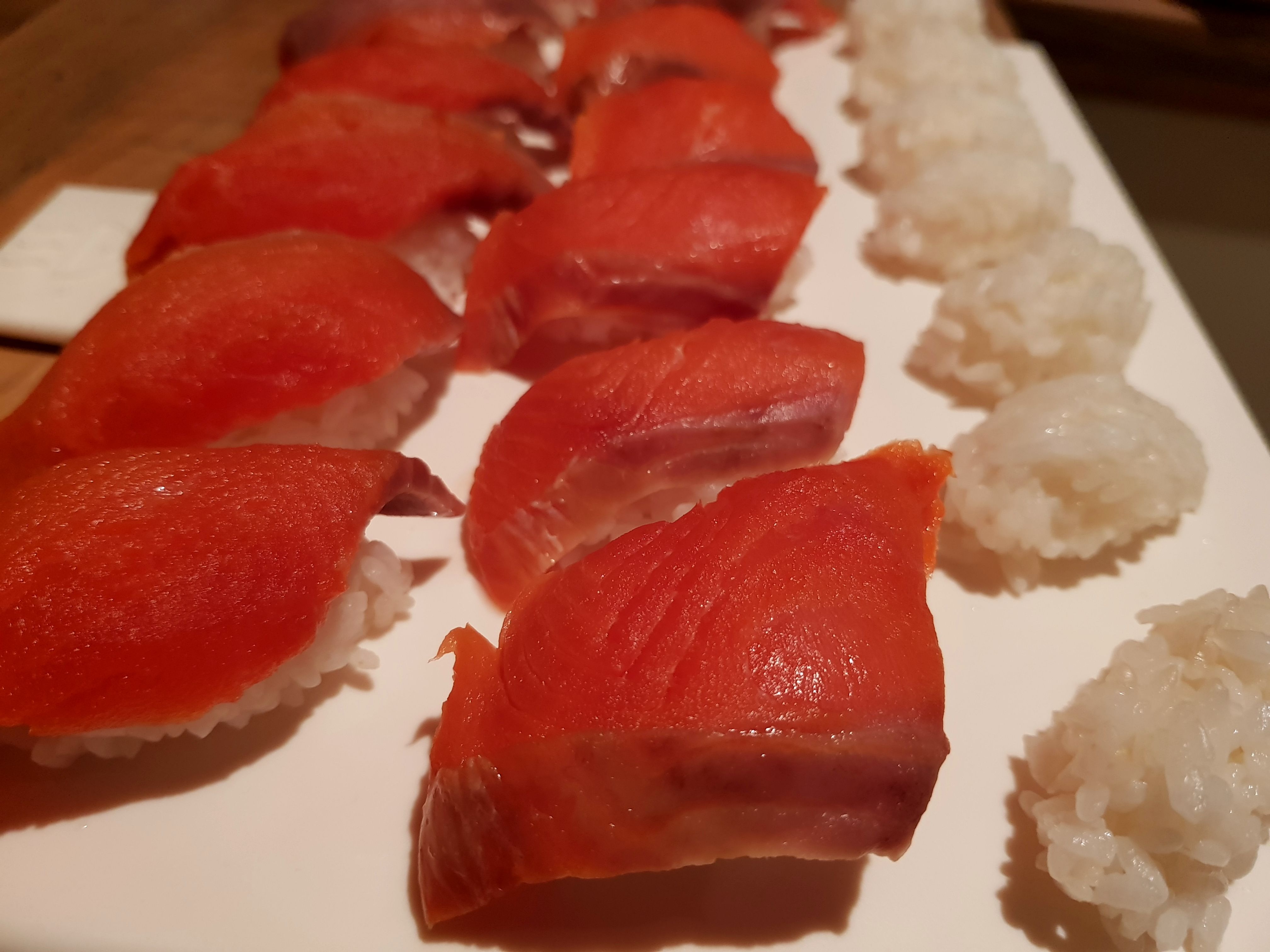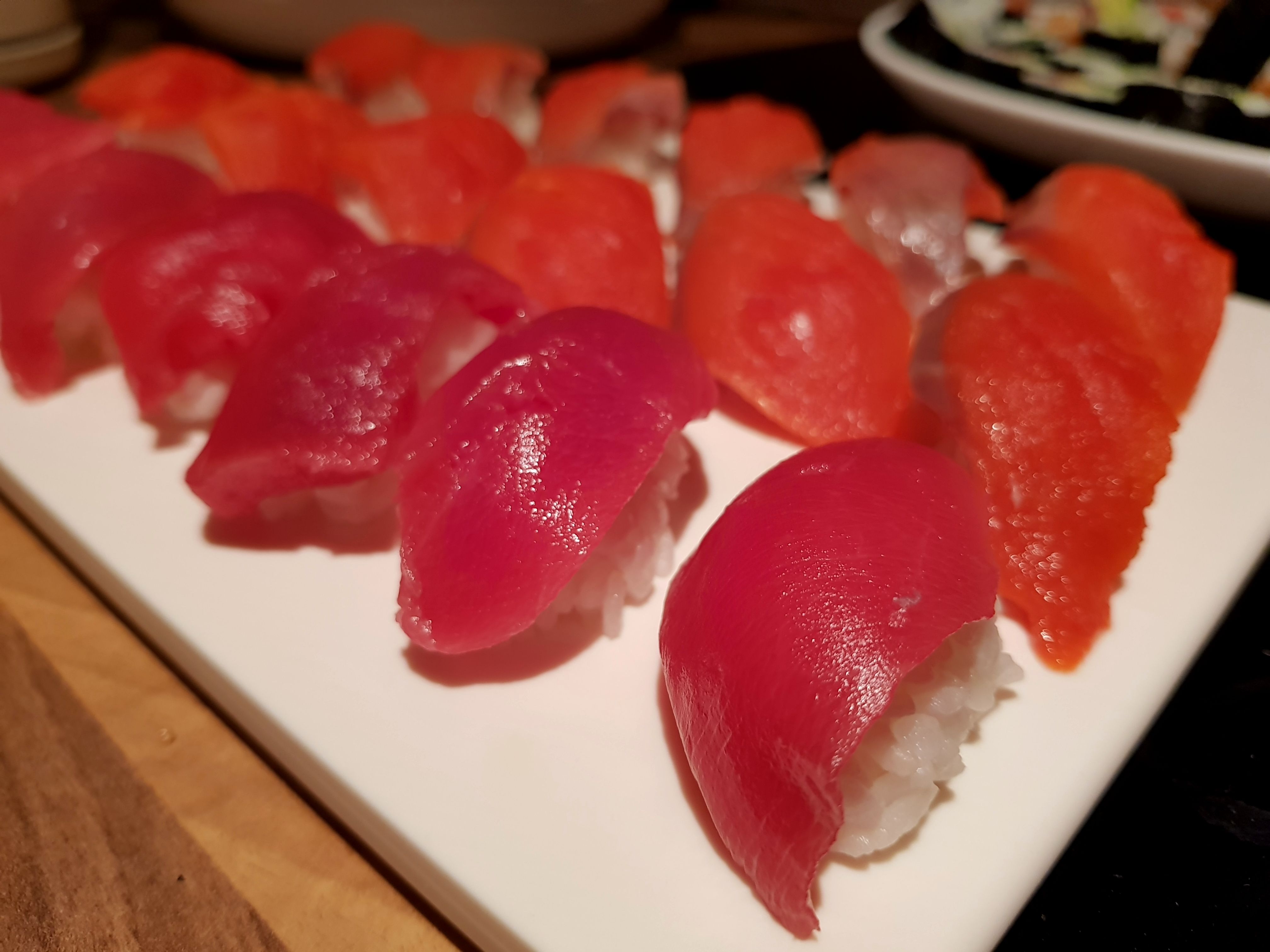 ---
The flavour of the prawn sushi was of the same high standard! I love to dab a bit of wasabi on top to enjoy that strong "kick", haha!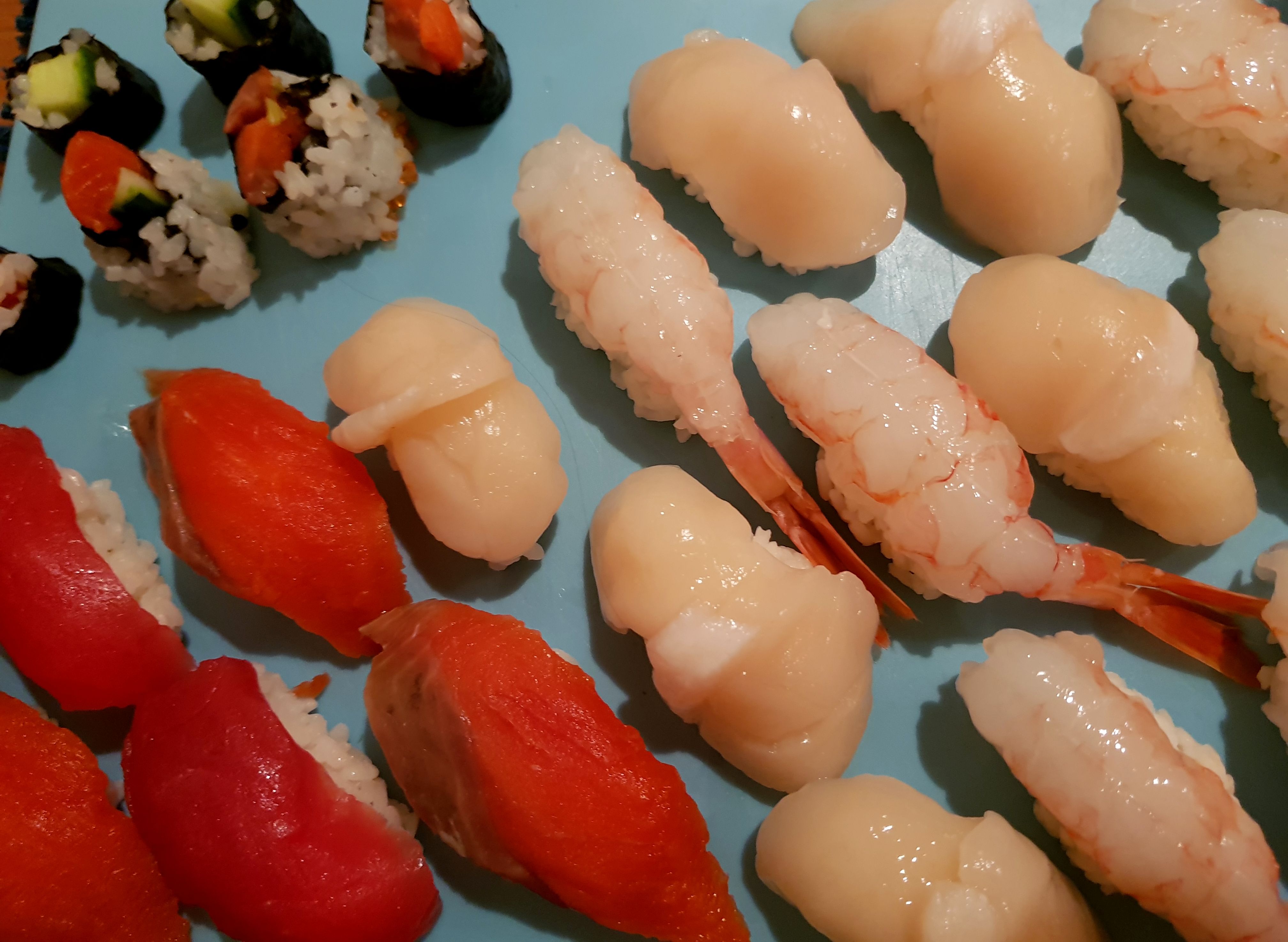 ---
Scallop Sushi is probably considered one of the most luxurious item on the sushi menu. The butterfield scallops placed on top of sushi rice are so tender and sweet. Absolute heaven on a plate!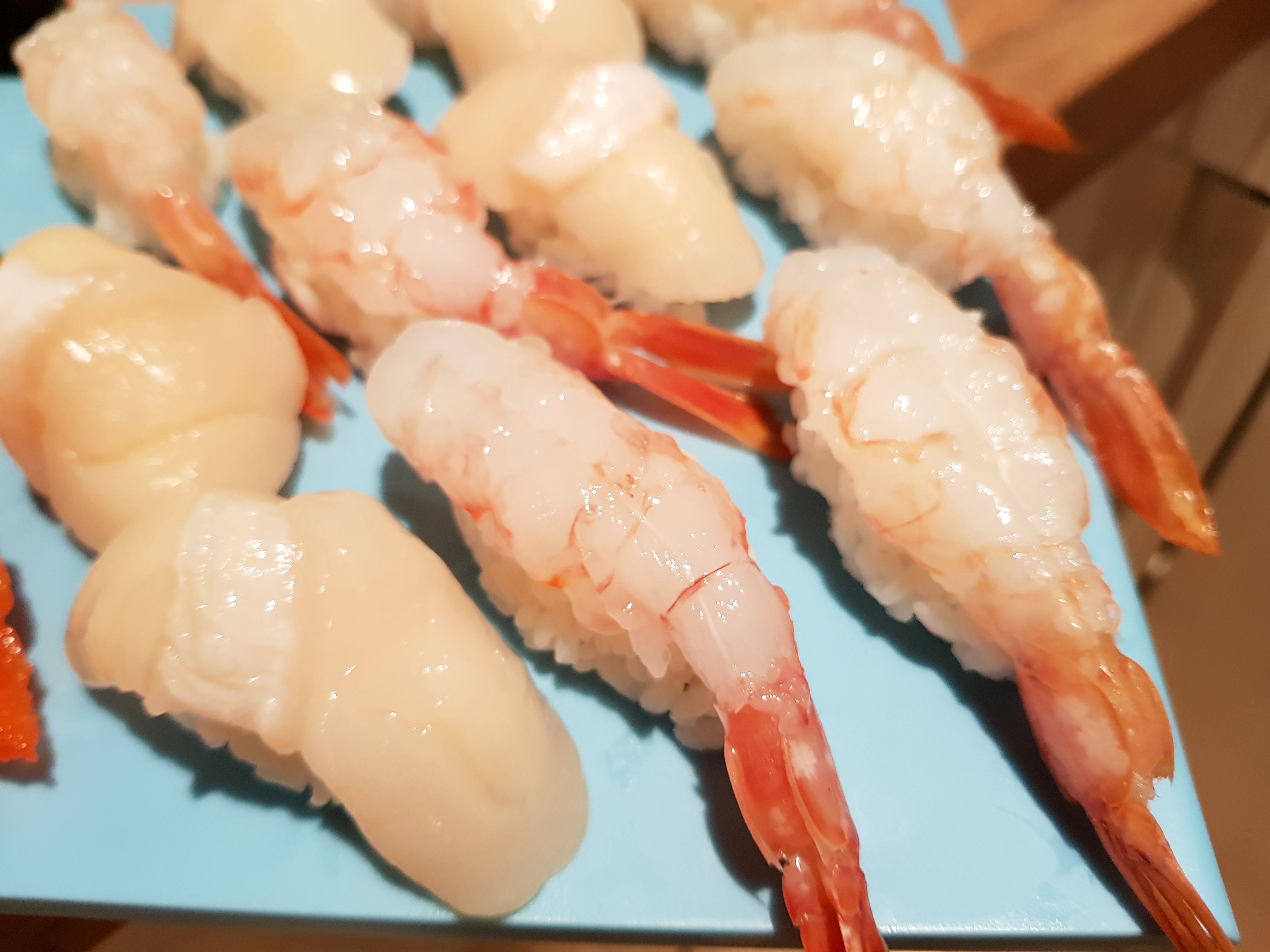 Just writing up this post makes me so hungry, haha! We all enjoyed this amazing sushi meal and were really satisfied by the end. How much better could it get! Having lovely food and with the greatest of company too!
I really love Atari-Ya and am really grateful for it being located so nearby to where I live. If you ever fancy the most superlative fish you can find for that "special" Japanese dish, this place is the best you could ever hope for.
---
伦敦西区的Atari-Ya 是我最喜欢的日本寿司外卖店,这家外表并不起眼的小店有最新鲜的料理刺身。这里有专业的厨师为你准备各种新鲜寿司与刺身,他们家的吞拿鱼寿司特别受欢迎!
碰巧我们的朋友@exyle和@bkdbkd在伦敦度假,所以我提议从Atari-Ya采购一些新鲜鱼和配料,自己在家里做寿司大餐吧!@exyle和@bkdbkd也和我们一样爱吃日本料理,所以大家一致赞成了。
Atari-Ya位于West Actoon 地铁站附近,仅一分钟路程,非常方便。附近有一所日本学校,所以这个地区有一个庞大的日本社区。
寿司店店面虽小,但总是很热闹,大部分都是日本人。通常来说,这是一个很好的预兆,说明这里的日本料理很正宗,呵呵!
Atari-Ya室内装修十分简单,货架上都是淋漓满目的日本食品,包括日本米,醋,芥末,酱油和面条等。店里的有一个很大的玻璃柜台,上面摆满了包装好的一份份新鲜鱼和肉。这些都是经过特别腌制过的,以味增为主要酱料。味增是一种极具日本传统饮食特色的调料,由大豆经过发酵而制成的,为肉类和鱼类添加特殊风味!
我最喜欢店里的新鲜鱼柜台,大家可以在那里购买刺身级的鱼和海鲜。看着柜台后面师傅熟练的刀工和绝技,真是太赞了!在这里现买的好处就是师傅可以按照你的要求来切鱼片,做寿司的话,鱼片要切薄些;而刺身的话,鱼片可以稍厚一些。
我们选了最爱吃的海鲜打包回家,其中包括40片三文鱼,20片吞拿鱼,10条甜虾还有扇贝以及一些鱼子。我们在店里总共花了75英镑,按伦敦的标准来说价格算是实惠。如果在日本料理餐厅吃上这么一顿,费用一定不会低于200英镑哦!
经过几个小时在厨房里的加工,我终于做成了一桌美味的日本寿司餐!想了解寿司制作的Steemian朋友们,请看我以前发的美食帖 "轻轻松松学做寿司"!
嗯,样样都好好吃哦...我该从哪里说起呢,哈哈!用醋调过味的米饭格外香,海鲜非常新鲜又好吃!三文鱼和吞拿鱼柳颜色鲜艳,肉质柔嫩鲜美,有种入口即化的感觉!因为鱼肉非常新鲜,丝毫没有腥味。
甜虾寿司是我最爱!虾子蕴含海水的咸鲜味道,连虾身一起吃更享受它的鲜美。一口咬下去,这细腻柔滑带着甜味的感觉,真的好享受哦!我也喜欢加很多芥末,享受那种冲透鼻腔的刺激感,哈哈!
扇贝寿司在贝肉寿司中是最受欢迎的,也是最贵的。新鲜的扇贝肥美甘甜,口感柔顺,吃起来简直就像一股山泉一样入口即化,令人难以忘怀!
当我写这个帖子的时候,感觉有点饿,呵呵!我的寿司晚宴还算成功,大家都吃得非常满足!能与好友们共享美食,实在是人生一大乐事!
我感觉自己很幸运,在家附近能有这么棒的寿司外卖店!如果你也钟爱日本料理,Atari-Ya 会是很不错的选择!